Practical Portrait Evening
07/12/2016
Tonight's meeting was unusual
in the sense it was one of the only times in the Mid-Cheshire Camera Clubs (MCCC) calendar where members are asked to bring their cameras to the meeting. The Dingle Recreational Centre looked more like a scene from a Spaghetti Western – each one of us donning our weapons of choice be it Canon, Nikon or DSLR or Compact - it didn't matter. One by one we took turns to face our model. You could almost hear Morricone's familair tune in the distance…..
Actually, the evening was fantastic. With the help of Alan Towse LRPS and Karen (karenimew.yu@googlemail.com) -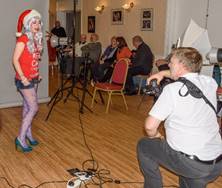 his model for the night the room was full of energy and excitement. Yes, this was something different from the norm and as members we were getting an opportunity to get first-hand experience of using a professional studio off-camera flash set up.
Alan set up a large background that allowed the members to work on both sides. Each side was equipped initially with a two – strobe set up. As we were using off camera flash, we needed a remote trigger attached to our cameras to activate the strobes. Alan was well equipped bringing a selection of triggers to fit all cameras and makes. Once the set up was complete and our model suitably dressed for the occasion, Alan wasted no time in giving us are first instructions for the night.
We were going to shoot Karen using Manual Mode
- F5.6 - ISO100 – and a shutter speed of 1/125. This was a good start point. More experience members were on hand to advise and support the less confident members. Lens choice was down to the individual. Most members were happy with the kit lens, others wanted to try out primes or even a macro prime lens which incidentally works well for portraiture.
Alan took out all the hassle and pressure of setting up the mock studio. He knew exactly what settings we needed to create a great shot. All members from beginners to the more advanced photographers were able to create beautiful sharp portraits with lovely soft pleasing light.
After tea and biscuits, Alan changed the studio set up by adding two more lights making it a four-light set up. He added coloured gel to the two lights that he had aimed at the white background. This set up totally changing the mood – as photographers we needed to adapt ensuring our compositions and direction to the model matched the atmosphere created by the lighting affect.
A group of members were reviewing their shots together and were remarking on the sharpness they had obtained in their images. The 'proof of the pudding is in the eating' so to speak – having experienced the ability to take pin sharp images with our own cameras means that set up (settings) and technique are to some extent more important than using the best equipment.
For many members' this was the first time they had had an opportunity to photograph a professional model. As a photographer taking portraits, we need to direct the model so as to obtain the best composition for the shot. This session provided a good insight to build confidence in directing, taking and discussing the images with the Karen. Alan was supposed to be accompanied with two models. Unfortunately, one of them was unwell so this gave us all a chance to model for each other including yours truly. The photo on the left was taken and post processed by Ray Girling.
Some of the more experienced members started to experiment with the settings. F5.6 is a fairly wide aperture giving a relatively shallow depth of field. Depending on the composition and how Karen was being photographed could mean that some of her features may not be in focus. Experimenting with F11 provided a wider depth of field but also required adjustments to other settings due to less light being able to hit the cameras sensor. Alan was on hand to discuss these issues and solutions with the members. His easy going and confident style made it very easy to learn. Alan also provided a practical introduction to High Speed Sync. By asking a member to take a series of images with different shutter speeds with the Hight speed Sync activated. The black stripe cutting across the finished image being the expectant result. Alan explained why this happened and how to prevent it.
All in all, the evening was a great success. It was a very different meeting to what is normally held and it was an excellent example of a close community coming together where everyone could have fun in their learning.
For more information about the Mid-Cheshire Camera Club visit its website www.midcheshirecameraclub.org or come along to a meeting on Wednesday evening at 7.45 for 8pm at the Dingle Recreation Centre, Winsford.
Paul Wilcock
Press & Publicity Officer
MCCC